Lotus festival by Lotus Club France
Hľadať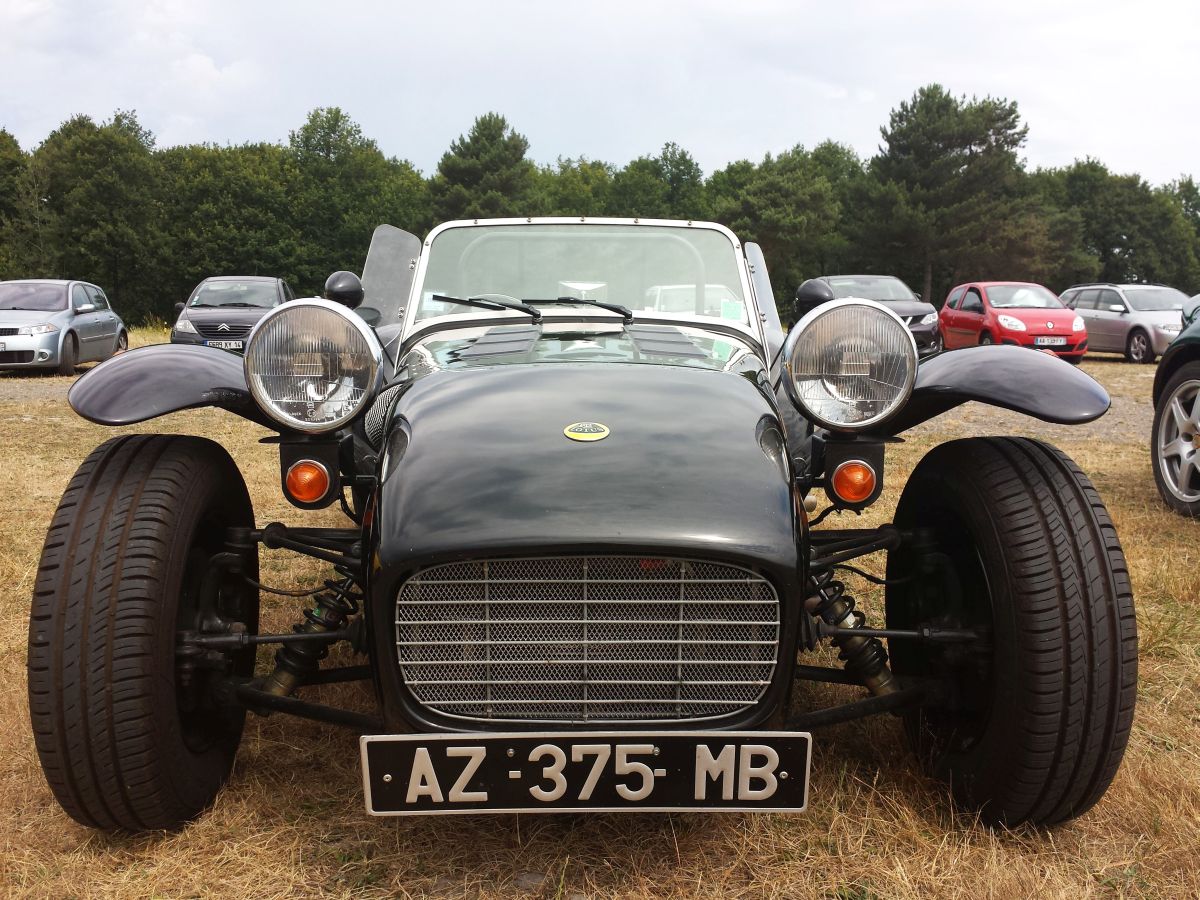 Lotus Club France arranged a festival for the Lotus enthusiasts. This event attracted to Linas-Montlhéry circuit about 245 happy owners of the Lotus cars and of course, many visitors. Organizers were little bit afraid of the weather as during the week temperatures were reaching unbearable 40°C. Unfortunately, Saturday brought many clouds even one very light and short rain what surprised many Lotus owners. They were not ready for the rain, so they used umbrellas to protect their interior against the rain.
Most of the Lotus enthusiasts were French, but you could also bump into British or Belgium guys. "Lotus-ers" brought to Linas-Montlhéry many interesting cars. One of the oldest cars you could have come across was Lotus Elan S1 in both, hardtop and roadster (Drop Head) version. Lotus Elan S1 was the successor of Lotus Elite (type 14).

Advertisement


Lotus Elan S1 was presented for the first time in October 1962 at London Motorshow. Series 1 (S1) was built on steel backbone chassis with lightweight fiberglass body on it. From the very beginning, S1 was powered by 1.5 litre 4 cylinder engine producing about 102hp at 5700rpm. However after 7 months of selling, this engine was replaced by 1.6 litre twin-cam unit producing about 106hp at 5500rpm and 146Nm at 4000rpm. Engine swap to 1.6 litre unit allowed Lotus a participation in motorsport (class 1600 cc). So Colin Chapman, man with the racing spirit, started with the preparation of the racing version of S1. Finally in 1964 Lotus introduced model Lotus Elan 26R (Lotus Elan S1 internally known as model "26"). The production number was very limited because only about 45 of them were made. 26R was a lightweight racing version of S1 and was driven by drivers like Jim Clark or Jackie Stewart. 26R featured many upgrades. Engine was prepared either by Cosworth or BRM producing from 140hp up to 160hp. Limited slip differential (LSD) was fitted to transfer efficiently the torque on the road with the new larger tires fitted. Due to the larger tires, bodywork had to be slightly enlarged. To allow braking in the last moment before the corner, brakes were upgraded too. In the interior, you could find mounted triangular roll cage to improve the strength and protect drivers in the case of accident. Instead of pop-up headlights, new lights with the plastic cover were fitted too.
In October 1964, Lotus introduced its second series of Lotus Elan. Lotus Elan S2 had couple of interior and exterior modifications. Brake system was upgraded too. You can easily distinguish S1 from S2 by checking rear lights. Lotus replaced rounded lights by ovoid ones. There were also about 52 cars built as version 26R.
In September 1965, series 3 (S3) was revealed. This time, Lotus with his S3 brought even a coupe version of its Elan (Fixed Head). Very shortly after S3 introduction, in January 1966 Lotus Elan S/E was introduced. "Special Equipment" version was powered by engine producing 116hp at 6000rpm. This sprinter with less than 700kg accelerated from 0 to 60mph in just 6.8 sec (declared by factory). More than one year later, Lotus showed off its coupe 2+2 version so called Lotus Elan+2.
The latest series of Lotus Elan was revealed in July 1968. Lotus Elan S4 came up with 126hp engine alimented by 2 Weber carburettors. Differential had to be reinforced to transfer 153Nm at 5500rpm. From 1971, you could buy Lotus Elan Sprint. It was a two colour version of S4. Lotus was offering large colour scheme, but the most successful were Lotus Yellow, Carnival Red and Lagoon Blue at the top half of the car and white colour at the rest. These two colours were divided by golden stripe with Elan Sprint decals and golden bumpers. The last S4 produced was in December 1974. There were more than 15,000 units made since 1962. Lotus Elan of 60´s was replaced by Lotus Eclat and Lotus Elite (2nd generation). Next generation of Lotus Elan was introduced in 90´s. However this model was front wheel drive compared to Elan from 60´s.
Despite the fact that Lotus Elan from 60´s is already a classic car, it can still compete with the new comers and it will not be ashamed. It is still a fast, great handling car. During the Lotus Festival at Linas-Montlhéry circuit, owners did "race" with their Elans and for sure they had a great fun like spectators did. But the festival was not only about the racing, Lotus owners came there to spend a nice time with their club friends and also to celebrate 20 years anniversary of Lotus Elise and not to rev up their engines all the time they pass nice girl.
Lotus Elise is a successor of Lotus Elan from 90´s. Similarly as with Lotus Elan, Lotus Elise came through different development stages. At first, there was a version Lotus Elise S1 followed by S2. Lotus Elise S1 was sold with 1.8 litre Rover K-series engine, but with the arrival of S2, Lotus decided to fit 1.8 litre VVTLi Toyota engine and combine it with 6 speed gearbox. There are many versions of Lotus Elise, either S1 or S2. You can find on the market atmospheric engines or supercharged ones. Also, there are different types such as Lotus Elise 111s, 111r, Type 25, Type 49, Type 72 or 240R and much more. But each version has simply its meaning to be here. For example, Lotus Elise Type 25 (green Elise with 2 yellow stripes) was built to celebrated 40 years anniversary of Jim Clark. Recently Lotus revealed its latest version of Elise.
For those who like more aggressive style, Elise´s brother was there too. Lotus Exige S1 and S2. Of course, we cannot forget to mention one of the most beautiful supercars made by Lotus. Lotus Esprit in the version V8. It is not very common to see often this V8, so you just need to profit from the time you see one. There were also two Lotus Europa-s, the old one and the new one. It was very easy to overlook them in the large amount of Lotus Elise and Exige.
Read also story about BMW 3.0 CSL. We are not afraid of the future.
This kind of the event is very good for your health too. Instead of sitting behind your computer and checking all forums, you can simply ask your Lotus club mates and have a little bit of a real chat and walk through the paddock. Or in the case that your pockets are full, you can buy some incredibly expensive fiberglass spare parts.
By Jacob Almohada